Spinach Crespelle
16 December, 2021
0 Comments
---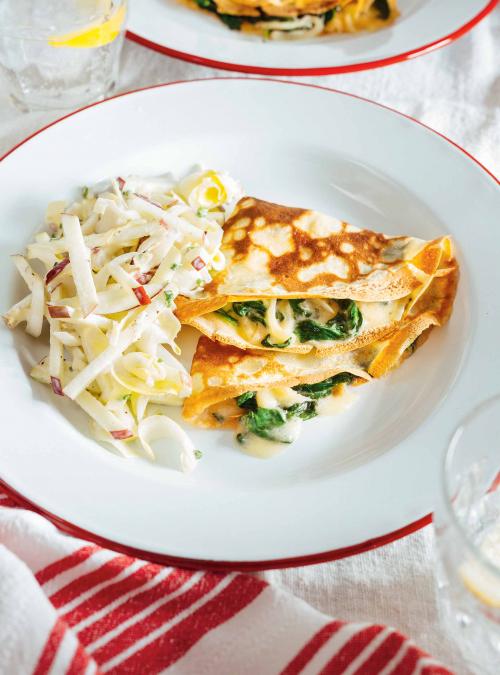 ---
Crepes
Toppings
Crepes

In a bowl, combine the flour, sugar and salt. To book.
In another bowl, combine the eggs and half the milk. Add the dry ingredients and whisk until the dough is smooth and smooth. Stir in the rest of the milk.
In an 8-inch (20-cm) non-stick skillet lightly brushed with butter, cook 8 thin pancakes, one at a time, using about 60 mL (¼ cup) of the mixture for each pancake. Brown on both sides. Reserve the pancakes on a plate.

Accompaniement

Place the grill at the center of the oven. Preheat the oven to 180 ° C (350 ° F). Line a baking sheet with parchment paper.
In a skillet over medium heat, soften the onion in the butter. Add the spinach. Continue cooking for about 2 minutes or until wilted. Salt and pepper. Transfer to a bowl. Add the cheese and sour cream. Mix well.
Divide the filling over half of each pancake and fold them into 4. Place on the baking sheet. Bake for 8 to 10 minutes or until cheese is melted.
Serve the crespelle hot with the endive and apple salad.
Tags:
cooking
,
delicious food
,
fast food
,
Food
,
foodie