Technology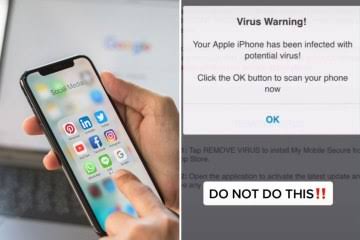 Do not press OK .. Warning for iPhone users!
iPhone users received an urgent warning that had spread widely through a video clip on the Tik Tok application, warning them not to automatically click on notifications that come from unknown third parties.
According to a report published by the British newspaper "The Sun", Jamie Neiland, who has a follower of more than 23 million, had published a video clip in which he revealed a hoax message reaching the phones of the American company Apple, and Nieland revealed the text of the message that comes in the form of " A small window" that reads: "Virus Warning! Your iPhone has been infected with a possible virus! Click the OK button to check your phone now.
Neyland addressed his iPhone owners saying, "If you see this message on your phone, turn off your phone immediately.
"If you touch anything on the screen, you will be hacked," he wrote, but Neyland did not reveal exactly how clicking "OK" would hack the user's phone.
According to the newspaper report, it is clear that the source of this message is not Apple at all, and the newspaper indicated that by saying: "If we examine it, we will notice that it lacks the edges that accompany the original company messages, and its background is not bright."
The report continues its message to iPhone users, that despite the difficulty of users to protect themselves from complex cybersecurity attacks, technology and information security experts advise everyone at least to constantly update their phone operating systems, because they contain the latest elements of protection from hackers.