Turmeric mask against blackheads and bland complexion
20 December, 2021
0 Comments
---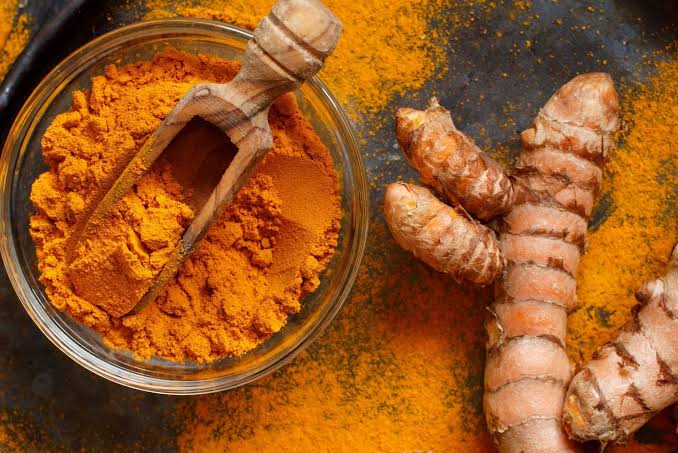 ---
A colorful and fragrant facial mask with turmeric as its main ingredient. A mask based on milk, sweet almond oil and flour that will restore your skin's radiance and softness. In addition, if it is done on a regular basis (once a week), you can say goodbye to your comedones.
WHY TURMERIC?
Health :
We know this spice to color and flavor our dishes, but many are unaware of its benefits on our body. This Indian saffron, as it is nicknamed, is a powerful anti-oxidant, anti-inflammatory, and anti-cancer agent. Naturally, it will allow the body's cells to regenerate, thus slowing down their aging. It facilitates digestion by stimulating the activity of the liver: it allows better secretion and extraction of bile.
New scientific research has come to support the unsuspected benefits of Turmeric. Thus, it has been observed that it gives conclusive results against cancer. But to take full advantage of its antioxidant properties and those mentioned above, know that you should ideally combine it with pepper or, failing that, olive oil or ginger. We will almost throw the salt away to swap it for the pepper and turmeric. It seems that the combination of these two is a real boon for our health. Indeed, the pepper would contain a molecule facilitating the absorption of turmeric by our body.
Beauty : 
Turmeric takes care of your body inside and out. It helps to fight against the problems of acne, skin pigmentation, eczema, psoriasis, skin marks left by infectious diseases such as chickenpox, or smallpox. It even relieves superficial burns. It is the darling of dry skin to which it will bring softness and radiance.
You'll need :
2 teaspoons of Turmeric
2 teaspoons of sweet almond oil
1 teaspoon of flour (cornstarch for us)
2 teaspoons of milk
Preperation:
In a bowl or ramekin, combine the Turmeric and the flour. Introduce your oil and mix. Finish with the milk. You may readjust the quantity, you should obtain a paste that is neither liquid nor thick: as below.
Application :
Before embarking on the mask pose, consider putting on an old t-shirt that you no longer like. Yes, Turmeric gently and lastingly stains clothes.
Apply the mask evenly all over your face. Be careful to put it under the eyes, as the anti-inflammatory properties of turmeric help reduce dark circles, which subsequently form vasoconstriction (narrowing of the vessels).
If you have any mask left, you can store it in the fridge for a few days and use it next time.
Let the mask dry on your face, i.e. about 20 minutes, then rinse off with cold water. Dry your face with a soft cloth.
Results:
You will illuminate your interior with your yellowish complexion. We reassure you, it does not last very long. After a while, you will be able to admire your skin with a tanned and radiant complexion. Soft, clean, refined, and luminous, your face exudes freshness.
Pros: You can very well use any other vegetable oil of your choice as long as it is suitable for your skin. It can be Olive oil, Avocado oil or Nigella oil. For best results, consider exfoliating before your mask. A facial sauna is ideal for better eliminating blackheads.
Tags:
Turmeric face mask