the most important home remedies for hair loss  
14 January, 2022
0 Comments
---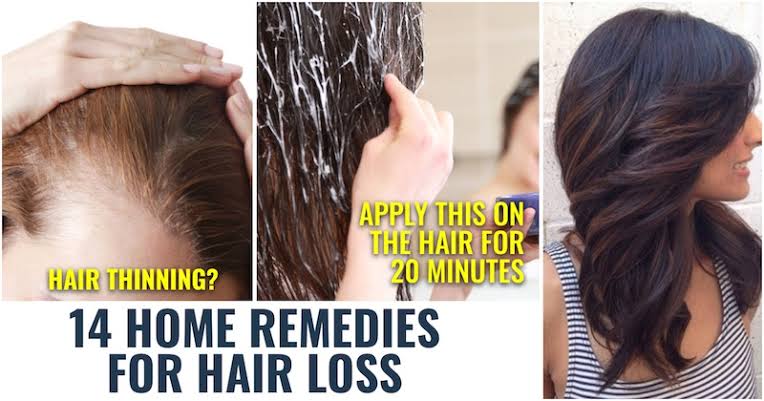 ---
Home remedies for hair loss.. Many people suffer from the problem of hair loss whether men or women, and this problem may be due to several problems, the most important of which are the effects of the surrounding environment, old age and aging, excessive smoking, stress, some genetic factors, hormonal imbalance, inflammation of the scalp and the use of products Unhealthy hair in addition to some medications and diseases such as thyroid diseases, immune diseases and anemia, so we will, through this article on the Educate Yourself website, present the most important home remedies for hair loss and baldness
1-Massaging the hair with oil: Choose the appropriate hair oil and massage the scalp with it, as massaging the scalp increases blood flow to the hair follicles and strengthens the hair roots. In addition, massaging the scalp relieves pressure and stress, and you can use olive oil or Coconut oil, almond oil, and castor oil and lightly press with fingertips onto hair and scalp once a week.
2- Indian gooseberry: In order to ensure natural and rapid hair growth, you can use the Indian gooseberry, or as it is called amla, as it is very rich in vitamin C, whose deficiency in the body leads to hair loss and hair loss. It is also anti-inflammatory, antioxidant, antibacterial and maintains health scalp and you can use it like this:
Mix a tablespoon of Indian gooseberry pulp with lemon juice
Then massage your head with this mixture and cover it until all hours of the night
In the morning, wash it with shampoo
3- Fenugreek: Fenugreek is considereda very effective treatment to prevent hair loss as it contains a very important hormone in nourishing and growing hair and helps rebuild hair follicles. It also contains nicotinic acid and some proteins that stimulate hair growth. You can use it like this:
Soak the fenugreek in water overnight
In the morning, grind them to make a paste
Then put it on your hair, cover the hair, and after 40 minutes, wash the hair
Repeat this every morning for a month.
4- Onion juice: Onions contain a high percentage of the sulfur element, which helps improve blood circulation in the hair follicles, rejuvenate it and reduce inflammation, thus helping to get rid of hair loss.onion juiceon your hair in one of two ways:
A – Squeeze the onion pieces to get the liquid in it, then put it directly on the hair and leave it for 30 minutes, then wash it with shampoo.
B – Mix 3 tablespoons of onion juice with two tablespoons of aloe vera gel, and you can also put a tablespoon of olive oil, then put the mixture on the scalp and leave it for 30 minutes and then wash it with shampoo.
5-  Aloe vera: Aloe vera contains some enzymes that promote the natural growth of hair. It also has alkaline qualities that modify the pH level of the scalp, which helps hair growth. It is also anti-inflammatory and prevents dandruff. It can be used as follows:
Apply aloe vera oil to the scalp
Leave it on for a few hours and then rinse it off with lukewarm water
Repeat 3 to 4 times a week.
6-  Licorice root: It is useful to prevent hair loss, opens pores, calms the scalp, and treats dandruff. You can use it like this:
Add a tablespoon of licorice root to a cup of milk with a quarter teaspoon of saffron and mix them well
Then put the paste on the areas of your scalp that have a lot of hair loss throughout the night
In the morning, wash your hair well
Follow this method once or twice daily.
Note: You can use licorice to treat hair loss in another way by boiling it and drinking it three times a day
Tags:
Commodities
,
Dandruff
,
Hair loss
,
treatment