Beauty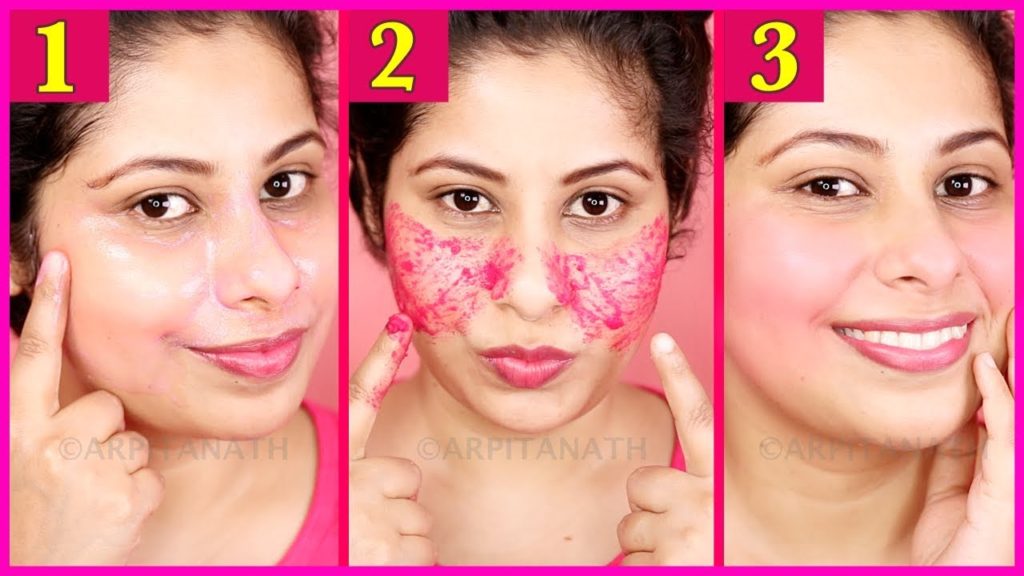 Secrets of getting rosy skin and natural red cheeks
Women want to have rosy skin and look beautiful, makeup may be a temporary and artificial way to improve the beauty of the skin because it does not change the basic skin condition you can, but natural methods enable you to get pink skin. They are safe ways to get light and rosy skin as they do not cause any harm. If you want to have pink and white skin, you should use home remedies. These recipes rely on nutritious foods and a diet that helps heal the skin. Vitamin A, Vitamin C is good for the skin. The following is a set of home recipes for a rosy and glowing skin, as it is the ultimate goal of beauty.
Secrets of getting rosy skin
1. Cucumber and lemon juice recipe:
Ingredients :
Option.

Electric mixer.

 Lemonade .

 flour .

 Vitamin E.
Steps:
 This mixture has skin lightening and exfoliating properties. You can put an amount of cucumber in the electric mixer. The amount of cucumber that you use depends on the amount you need and you should bear in mind that the mask will last with you for 2 days when cooling.

Then add a little lemon juice to the mixture until they are well mixed. If you have oily skin, you can use the juice of a whole lemon, which helps you to lighten the skin well. It also exfoliates the skin and leaves your skin clear, free of acne and naturally rosy. If you are prone to dry skin, start with a small amount of lemon juice with a small amount in an amount appropriate for your skin type.

Put the mixture in a bowl with the addition of flour and stir well until the mixture becomes consistent. Flour not only helps the flour to increase the consistency of the mixture, but also works on the effects of whitening the skin.

 Then the mask is evenly applied to the face and allowed to sit for 20 minutes before rinsing with warm water and massaging the face. You can use this mask daily to get rosy skin.

This mixture increases the chances of getting rosy skin naturally by taking vitamin C and vitamin E supplements, which are great antioxidants. Which helps the body to repair and renew the skin.
2. Yogurt and Rose:
To make this mask, you need to get a few rose petals and an appropriate amount of yogurt. It is certain that the rose petals must be fresh and healthy, add them to three tablespoons of yogurt and put them in the blender to form a smooth paste and apply it on the face for 20 minutes, then wash the face with cold water.
This mask is one of the best masks for rosy skin. Because yogurt contains lactic acid and enzymes that reduce pigmentation and contains a high amount of vitamin C, an antioxidant, protecting the skin from sun damage and brightening the skin tone. You can apply this mask three times a week for all skin types to get effective results.
3. Honey and Lemon Mask:
You can apply a mask of honey and lemon and get clean and moist skin. Lemon works to remove dead skin cells, while honey acts as an anti-bacterial and antioxidant. It is a wonderful combination that helps heal the skin. After applying it for 15-30 minutes, it will leave you feeling that your skin is smoother and your complexion is luminous pink.
4. Honey and Egg Mask:
Pour the contents into a bowl with the addition of 1 small spoon of honey and a little powder of rose petals. To put it on the face and neck and help you add more pink color to the skin.
Rose petals have astringent and soothing properties that tighten skin pores and reduce skin redness. This gives pink and white skin while reducing wrinkles while enhancing skin elasticity and reviving skin freshness.
5. Sandalwood and Rose:
This mask requires you to use 2 tablespoons of sandalwood powder or paste with the addition of 1/4 cup of milk and mix all the ingredients together in a blender to form a smooth paste. It is preferable to leave this mask on the face for 15 minutes and then rinse the face with cold water.
This mask is great for even skin tone and getting rid of spots because it has antibacterial properties that prevent pimples and remove excess oil, dirt and dust. The mixture reduces skin pigmentation to get smooth and flawless skin because it has antiseptic properties that kill bacteria.
6. Green Tea and Honey Mask 

 :
Green tea and honey face mask has a magical effect when applied to the skin. This mask is inexpensive and does not take much time to do. It helps to remove facial redness, and can also be used to remove spots on the face. You can use it and keep the rest for later in the week.
7. Oatmeal and Chocolate Mask 

:
This mask is so delicious, you may be tempted to eat it before applying it to your face. Chocolate helps rejuvenate your skin, leaving your face soft and radiant. All ingredients are working to pamper your skin.
8. Mango and Rose Skin Mask:
Cut a mango into small pieces and extract the mango seed and combine this mixture with rose petals and put them in a blender to mix them with the addition of 4-5 drops of milk and if you have oily skin, prefer lemon juice until you have a consistent paste, then apply the smooth paste on the face and leave it until Dry for 15 minutes, then wash the face with cold water.
9. Orange Peel and Rosehip for Skin:
To prepare this mixture, you need to get dried orange peel powder and a few rose petal powder with 2 tablespoons of honey. After combining these ingredients, you can apply an appropriate amount on the face and neck and leave it to dry for 20 minutes, then wash the face with lukewarm water and apply a little moisturizer.
This mask enables you to eliminate dirt and dust that are found in the pores of oily skin and other pollutants.
10. Banana Mask 

 :
This mask is amazing for sensitive and dry skin. If you like to go out enjoying healthy glowing and rosy skin. Before going out, you can apply a banana with a little coconut and olive oil to moisturize your skin leaving it soft. Therefore, it is very suitable for sensitive and dry skin.
 11.  

Cucumber, Honey and Oatmeal Mask 

 :
When the cucumber season comes, it brings with it many benefits that accrue to your skin at a small cost. And if you have oily skin because it will feel the cooling effect because it begins to absorb the oils in the pores of the skin. And you can add more other ingredients such as yogurt and a perfect mask on hot summer nights.
 12. Apple Cream:
Apples are one of the amazing fruits that contain alpha hydroxy acids, which improve skin tone. Elasticity increases the ability to have a rosy complexion. You can mix an amount of apples with milk to get a paste, then put the mixture in the refrigerator for 10 minutes, then mix a small spoonful of lemon juice and apply it all over the skin and neck and wash it after 15 minutes and massage the skin with ice. This mixture enables you to get white and pink skin, especially when you regularly apply it for a week naturally.
13. Orange paste:
Orange juice helps you get healthy skin and you can use it as a skin toner because it is rich in vitamin C and vitamin A and gives a uniform complexion. Take three tablespoons of cold orange juice, dip a piece of cotton in the mixture, massage the face and leave it for 15 minutes, then wash the face with cold water. It is preferable to regularize this mixture for 7 days.
14. Tomato juice:
Crush the ripe tomatoes, mix one tablespoon of baking soda and one teaspoon of honey, and mix them gently. Rub the mixture on the face and neck for 5 minutes in order to eliminate all skin impurities and reduce the production of melamine in the skin while protecting the skin from UV damage and giving a noticeable light to a light skin free of oil.
15. Papaya and Cucumber for Skin:
Put a quantity of papaya slices with ripe cucumber slices in the blender and mix them well and then apply the mixture on the face and neck for 20 minutes so that the enzymes work to lighten the skin because it contains powerful antioxidants that enhance collagen production and treat skin defects.
16. Aloe Vera and Lemon:
One of the easiest ways to get pink skin is to mix an amount of aloe vera gel with lemon juice to get an appropriate mixture. Or make a solution of aloe vera gel with lemon juice and massage the skin with the mixture every day for effective results every day. The mixture stimulates blood circulation.
17. Curd and Turmeric:
One of the best remedies for rosy skin is the lactic acid present in curd. It is considered a skin-lightening aromatic ingredient, and turmeric also combats signs of aging. Mix 1 teaspoon of turmeric with 1 teaspoon of honey and 3 tablespoons of yoghurt and keep the mixture fresh in the refrigerator and thicken for 20 minutes. Apply the cold mixture on the face and neck to nourish the skin and stick to the skin, then wash the face with lukewarm water to get the best results. You can apply it every day.
18. Lemon Juice and Moisturizing Glycerin:
In a small bowl, you can mix a teaspoon of lemon juice with 2 tablespoons of glycerin and 1 teaspoon of rose water and use this mixture to moisturize the skin. The mixture is packed with nutrients because it is rich in antioxidants that work to get pink skin.
19. Strawberry peel:
Strawberry is one of the best ingredients for skin lightening. You can mash fresh strawberries and mix 1 teaspoon of brown sugar and honey to apply the mixture on the face for 2-3 minutes and within days the skin will look naturally shiny, glowing and rosy