Beauty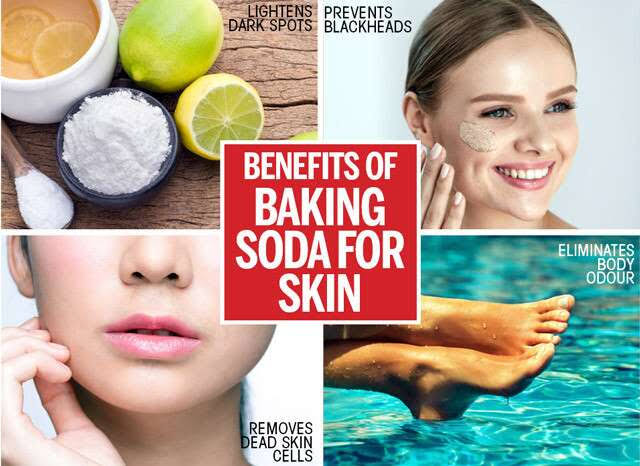 Put baking soda on lemon to get glowing skin
We all know the benefits of baking soda in the kitchen and the common use for it is to lighten teeth in three minutes using baking soda. But did you know that you can put baking soda on lemon to get great results for your skin? It is the first home remedy that you can resort to because lemon helps you relieve pimples and acid works to lighten the skin and thus get rid of blackheads. When baking soda is left on the skin, you can try this trick to get radiant skin.
Put baking soda on lemon to get glowing skin
One of the fastest ways to clean the skin and remove dead skin. Cut the lemon in half and put baking soda on half of the lemon and start rubbing the face in a circular motion and leave it for 5 minutes before rinsing the face with water. If you are sensitive to using lemon directly on the face, you can extract lemon juice and dilute it with water, and now add baking soda to the face and apply this mixture to your face.
Baking soda for skin:
Many people can use baking soda on the skin because it works as a daily cleanser and facial scrub. One of the most important results of using baking soda on the skin is that it made their skin look younger because baking soda removes dead skin cells, oil or dirt accumulated on the face, and this helps prevent clogged pores and prevent skin diseases such as acne.
You can simply use baking soda lotion by taking an amount of baking soda and placing it in the palm of your hands while adding warm water to the mixture to form a paste. It is preferable to take equal amounts of baking soda and water in order to get the right consistency. Gently wash your face with warm water and using your fingertips apply the paste all over the face before rinsing well using warm water and then applying a moisturizing cream.
 Baking soda and coconut oil:
We have already mentioned that coconut oil is a great moisturizer for the skin and is one of the reasons why coconut oil is used in moisturizing baths. Coconut oil softens the skin and is especially beneficial for dry skin. It may also help treat eczema due to its anti-inflammatory properties. It is also one of the best burn treatments.
You need to determine your skin type and if you have sensitive skin you should use less coconut oil for baking soda and if you have non-sensitive skin you can mix equal amounts of the ingredients.
Working by simply mixing the ingredients together and applying it to your skin, you can leave the mask on the skin for a few minutes so that the skin can absorb the mask. Then wash the skin with warm water in a light circular motion.
 Baking soda exfoliation:
You can simply take an amount of the face wash and use it gently when massaging the face in a circular motion before diluting it with warm water. You can make a thinner paste by making equal parts of baking soda and water, then add a small amount of oats and apply the paste on the face using your fingertips in a circular motion while massaging.
This recipe helps you reduce the appearance of dark circles under the eyes when applied directly under the eyes, but avoid contact with the eyes, you will notice the regeneration of the skin.
Baking soda with honey:
Honey helps to resist bacteria and tighten skin pores to protect the skin from damage. Baking soda exfoliates the skin to reduce redness caused by pimples and thus boosts blood circulation.
Mix baking soda and honey together in equal proportions to obtain a cohesive paste. Apply the mixture on the skin and make sure to leave it for 15 minutes, then wash with water.
Baking soda bath:
Baking soda bath helps you detoxify the body because it provides the necessary nutrients. Add two cups of salt to a cup of baking soda in the bath with stirring. Soak the body in the bath for 30 minutes, then wash the skin with warm water. You can add 1/4 cup of cornstarch.
  Apple cider vinegar and baking soda:
Apple cider vinegar exfoliates the dead layers of the skin. Mix 2 tablespoons of apple cider vinegar and apply the paste on the skin and leave it for 15 minutes before washing with cold water, followed by warm water and leaving the face to dry on its own. You can repeat this process once or twice a week. If you have sensitive skin, it is preferable to reduce the amount of apple cider vinegar used in the mixture.
Baking soda and hydrogen peroxide:
Hydrogen peroxide is an effective facial cleansing ingredient if you want to remove acne quickly because it kills bacteria quickly and is therefore used as a cleanser. The combination of baking soda and hydrogen peroxide enhances the healing process and provides acne-free skin. Then apply the paste on the face gently and leave it on the face for 5 minutes only. Then clean the face with cold water. When you use this mixture once a week, you can get glowing and youthful skin.
Baking Soda and Moroccan Clay:
Clay has medicinal properties for treating acne to help you reduce the appearance of pimples and improve skin texture, so try this remedy from today right away. At first, the face is washed well with a mild soap containing salicylic acid. Exfoliate the skin with a pad and dry the skin with a soft towel. Now take 1 tablespoon of baking soda, add water to make a smooth paste. Gently apply the paste on the acne for 3-4 minutes. Then wash the face with lukewarm water. Cover your face with a small spoonful of mud. Leave it on the face for 20 minutes to dry. Then wash the face with hydrogen peroxide to avoid any kind of infection, then wash the face directly with lukewarm water.
Beauty benefits of baking soda:
Dry skin treatment:
If you have dry skin and suffer from flaking skin, you can use baking soda in your water bath, it will do wonders for you. In fact, experts recommend using baking soda to treat skin disorders. Because baking soda raises the pH of the water, it exfoliates the skin. You can soak the body in a baking soda bath to balance the acidity of the water, preferably 3 times a week.
 Soothe itchy skin:
Do you suffer from chicken pox, insect bites, and similar skin problems, all of these disorders result in terrible itching in the skin, but there is no need to worry. Add a little baking soda to the bath water to work on itchy skin.
 Cleaning inflamed skin:
Baking soda has anti-inflammatory and antibacterial properties, which makes it a great cleanser for the skin. In fact, experts recommend using a baking soda solution to clean your eyelids if you suffer from blepharitis, an eye disorder. People who suffer from this condition need to clean the eyelids regularly and prevent the growth of germs and secretions that accumulate in the edges of the eyelids. To make an eyelid cleaning solution, you can mix baking soda with sterile water and use it to rinse your eyelids.
Peeling:
Exfoliation helps you remove the outer layer of dead skin and can make a big difference in the appearance of your skin, but you do not need to buy exfoliating products and you can rely on home recipes such as using a simple paste of water and baking soda can work wonders for your skin and get rid of dead cells to get smooth skin. It is preferable to exfoliate the skin once or twice a week.
Get glowing skin:
Do you suffer from dull and dark skin? One of the common treatments to get rid of this problem includes the use of baking soda and lemon juice to exfoliate the top layer of dead and dark skin. Because lemon is rich in vitamin C, which prevents the interaction of melanin. Therefore, this combination is thought to be great for your skin and to rinse off after about 10 minutes.
 Fabric softening:
Do you have high cracks on the heels of the feet? Baking soda can be a useful ingredient to get rid of when soaking the feet in a baking soda solution, as it dilutes the special calcinones and then using a pumice stone directly to remove the dead layer of the skin.
Dealing with sweaty skin:
If you are wary about the chemicals in antiperspirants because they may not suit your skin, baking soda can be a good alternative. Not only does it have antibacterial properties, but it also helps in dealing with odor-causing bacteria and absorbing sweat, thus leaving you feeling clean. Baking soda can be directly applied to the armpits or even mixed with talcum