Masks to beautify oily skin
21 November, 2023
0 Comments
---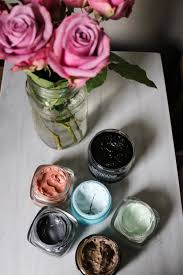 ---
Masks to beautify oily skin
Oily skin is one of the types of skin most exposed to problems. It is rough in texture in most cases, has large pores, and is usually susceptible to acne and black spots that affect the beauty of Eve. Hence, there is an urgent need to treat oily skin and beautify it on an ongoing basis, and we have no alternative but herbal masks, including some. :
1- Apostasy Mask:
The apostasy mask consists of fine wheat bran grains, adding an appropriate amount of rose water to it, making a soft dough and placing it on the face and neck for a quarter of an hour, after which the face is rubbed. This is widely used as a mask in international beauty houses because it actually eliminates fat cells. It works to remove excess fat on the skin of the face, and its effect is clear in removing skin infections and working on soothing it, in addition to the fact that using rose water in it gives it the advantages of being a soothing and astringent mask and has a pleasant and refreshing scent for the skin.
2- Lemon and egg mask:
It consists of one egg white, the juice of one lemon, a spoonful of warm water, and four drops of boric acid, which is available in pharmacies. It is used as an eye wash. The mixture is mixed well and placed on the face and neck, then removed after 20 minutes by washing the face and neck with the added warm water. Rose water is used as a perfume, soothing and refreshing.
3- Cucumber slices mask:
It is one of the easiest masks to make at home. It is made by cutting one fruit into thin slices, covering the face with it for 20 minutes, removing it, and then washing the face with warm water added to it.
4- Yeast mask:
The yeast mask is made only using yeast that can be obtained from one of the ovens (bakeries) that are used to ferment bread, and soaking it in rose water (a suitable amount for the amount used) makes the consistency thick and dough-like. Then the face and neck are painted with the mask and left on the face for a period. At least a quarter of an hour, then clean the skin with warm water several times.
5- Dandelion mask:
A wild dandelion herb mask is used to treat oily skin blemishes. This mask is made using about 6 leaves of fresh wild dandelion herb (it can be obtained from herbal stores) with half a cup of milk, a spoonful of butter, and a little oatmeal to give the appropriate consistency. As for the method Making the mask boils down to boiling fresh wild dandelion leaves with half a cup of milk for five minutes and leaving it for a while until it calms down. Then we filter it and add butter and flour so that the mixture becomes like a paste that is placed on the face and neck for a period ranging between 15-20. One minute until the face is completely dry, then we wash the face with lukewarm water several times.