Lightening and softening the feet and making it like children's skin
20 October, 2022
0 Comments
---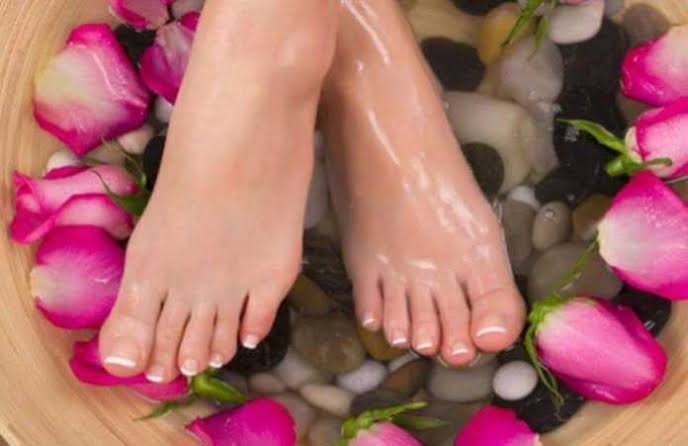 ---
Lightening and softening the feet is one of the dreams that every woman, regardless of her age, wants to achieve. The beauty of a woman and her care for her skin does not lie only in the skin of her face and hair, but also includes her feet, which is an important reward as well, especially if she suffers from cracks, pigmentation and dark spots, but for everything. A solution for every aesthetic problem has a set of natural solutions that every woman can follow and adopt to achieve her dream of getting what she desires.

We, in turn, through your favorite magazine, the "carebeautyco.com, suggest to you, Madam, a set of tried and guaranteed natural recipes that you can adopt and get an ideal result that you desire and strive for, in a short time and with simple ingredients that you have at home and do not cost you much, do not hesitate to try and apply them To get the result you are aiming for.




First – the salt mixture to lighten and soften the feet:
glycerin recipe
Today, my lady, I brought you a recipe that will make you very happy, especially if you suffer from blackening of the feet resulting from their exposure to a lot of sunlight and the promise of moisturizing them, which leads to their dehydration and the accumulation of dead cells on the skin and change their color and thus the inability to wear open shoes, and this recipe does not need much. From the ingredients, they are all simple ingredients that are available at home and you can also buy them at a small price.




All you will need is a little sugar, a little olive oil, salt, Vaseline, a little glycerine oil, lemon juice and then food plastic, then mix a spoonful of salt, a spoon of sugar with two spoons of olive oil, mix the ingredients well and leave them aside for 5 minutes Then, put a tablespoon of Vaseline and a tablespoon of lemon juice in a bowl, and warm it over steamed water for 3 minutes.
Then wash the feet with warm water and then apply this recipe on them with a little massage, then wipe with a cloth, and apply the sugar and salt recipe for exfoliation with circular movements from the outside and the inside, then wrap your feet in food plastic, and leave them for 10 minutes or more, after that Rinse them with warm water and moisten them with glycerine oil.




Second – The chickpea flour mixture is effective in lightening and softening the feet:
chickpea flour mixture
The whiteness and smoothness of the feet are among the important and basic steps that women seek to obtain, as the shine of the feet shows the extent of the woman's interest in her beauty, elegance and soft touch to her body, for this reason, ladies, we dedicate this distinctive recipe, which gives an effective result in lightening and softening the feet, do not hesitate to try it, it gives result as you wish.
You will need 4 tablespoons of lemon juice + two tablespoons of chickpea flour + 1 tablespoon of rice water + 1 tablespoon of natural honey + 1 tablespoon of instant yeast. The night to get up in the morning and rinse with water you will feel the difference from the first use, but it is necessary to repeat the recipe at least twice a week to get soft feet like the feet of children.




Third – The soapy recipe for whitening the feet:
soapy mixture
All women love soft and moist feet and seek to obtain them by applying a set of cosmetics, but they do not give effective results from the first use, so we brought you this powerful and wonderful recipe that you can apply on your feet and get a skin like children's skin, especially that this recipe is ideal Very lightening and softening the feet.
Just take an amount of grated Dove soap with a spoon of Coke oil and a spoon of olive oil, then melt the soap in a water bath, then add the other two ingredients to it and apply it on your feet at night, wear cotton socks, then in the morning wash your feet with a light scrub and you will see the great result of First use.
Fourth – turmeric recipe for soft feet:
turmeric mixture
Many people suffer from the problem of blackening the feet, resulting from their constant exposure to the sun, not moisturizing them, which leads to their dehydration, and the accumulation of dead cells on the skin, which leads to a change in their color, and thus the inability to wear open shoes, so many people resort to To beauty salons to beautify the feet, but natural recipes are always the best, for this we brought, but a powerful recipe for lightening and softening the feet.




You will need three tablespoons of lemon juice + half a tablespoon of ground turmeric.
Method of preparation: Mix lemon juice with turmeric, stir it well until we get a homogeneous mixture, then put the mixture on the feet, leave it for half an hour, then wash them with lukewarm water, and repeat the use of this recipe twice a week.
Important tip:
If you suffer from blackening or darkening of the skin of the hands and feet, you should try these simple, proven and guaranteed natural recipes in lightening and softening the feet, and do not hesitate to do so, especially since natural recipes do not cost you much, and if they do not benefit you, they will not harm you, and the beautiful thing is that the recipes Natural always gives perfect results, you just need persistence, repetition and patience.