Haircare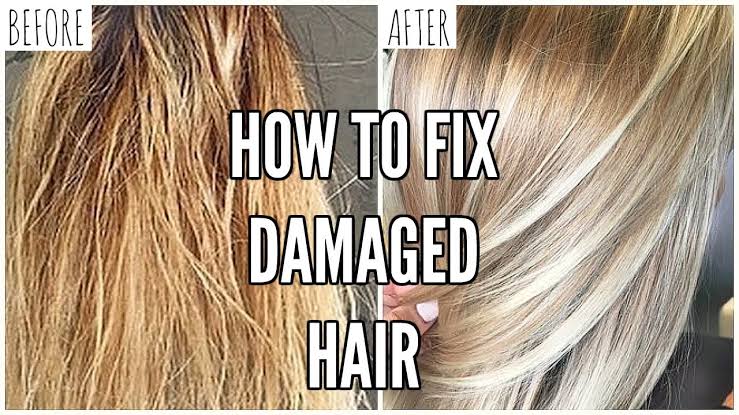 How to treat damaged hair from dyes
Learn about the treatment of hair damaged by dyes, damaged and destroyed by the chemical individual, whether you dye or individual inside specialized salons or at home, the bleaching substance that pulls the color before applying the new one affects the hair proteins, so follow us dear details of the following article, and therefore you will be able to Restoration of your burnt and brittle hair,
How to treat damaged hair from dyes and keratin.
Use high quality styling and detangling tools.Apply leave-in conditioner or leave-in.Violet shampoo and conditioner to repair hair damaged by dyes.Avoid hair care products that contain sulfates and silicone.Style from the bottom Up.Intensive conditioning treatment for hair.Cut regularly.Do not expose your hair to chlorine in swimming pools.Eat foods for healthy hair.
Keratin and hair spa:
One of the ways to treat damaged and destroyed hair from dyes and chemical sings is periodic hair spa sessions. It is applied to the strands of your hair and strengthened with heat. Keratin hair treatment lasts for 1-2 months, possibly less because it is related to the number of hair washing times.
Using high-quality hair styling and detangling tools:
styling hair with a bad brush or combs, leads to hair breakage and cutting, so buy yourself a high-quality hair styling kit from a famous brand, so you can get tangle-free hair without cutting or damage.
Apply conditioner or leave-in:
They are not just conditioner products that are placed after shampoo during the shower, but rather moisturizing conditioners that are used on clean hair and left without washing, to repair damaged or burnt hair from dyes, buy a good conditioner or make your own loofah inside Your home with natural ingredients, learn about this method through this link.
Violet shampoo and conditioner to repair dye-damaged hair:
To keep your dyed and chemically treated hair, without it being damaged or destroyed, use purple shampoo products that are suitable for your hair, these types of shampoos transform colored hair strands to copper or orange.
Avoid hair care products that contain sulfates and silicones:
Silicon, sulfates or sulfites are destructive elements for hair that may give it softness and temporary shine, but they destroy hair, especially dyed or chemically straightened, to repair your damaged hair Avoid shampoo and hair care products that contain these elements.
Bottom-up styling: Whether your hair is dyed or normal, you should brush your hair dry from the bottom up and not the other way around, starting with the ends and detangling all the way to the roots.
Intense moisturizing hair treatment:
There are hair treatments, such as protein, to get wet hair and get rid of dryness, it is necessary to use such treatments in case of damaged and brittle dyed hair.
Regular haircut:
In order to repair the damage of your hair and restore its vitality and radiance, make sure to cut your hair once every three months and also get rid of the split ends, this will restore health and luster to your hair again.
Do not expose your hair to chlorine in swimming pools:
When the chlorine in swimming pools is exposed to it, it causes it to dry out and then break and fall out.
Eat foods for hair health: It is not only hair care products and treatment methods that will repair damaged hair, but also attention to healthy diets such as eating foods rich in keratin and protein, get to know them from here, and through this link, and also eat fruits that lengthen hair and increase its density. .
Does hair return to normal after damage?
Yes, it is possible to treat hair, restore it to its nature and nourish it properly, but this will not happen in one night, but effective treatment plans must be followed to restore health to damaged hair over long or medium periods of time, because short-term treatments do not last long and their effect is temporary.