Chicken salad with quinoa
13 October, 2022
0 Comments
---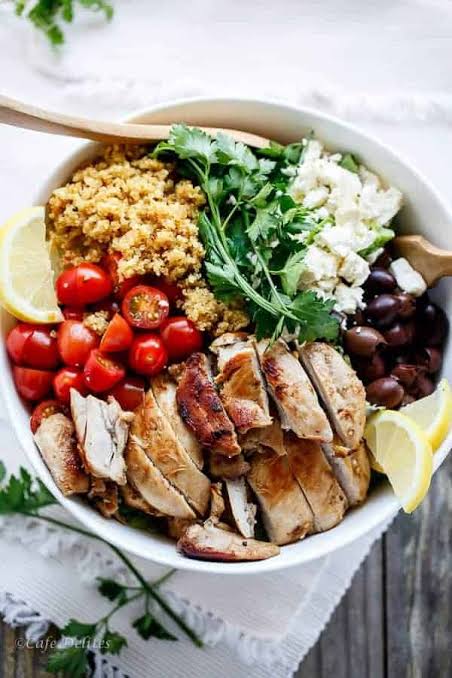 ---
Chicken salad with quinoa and vegetables is one of the beneficial dishes that enhances immunity, and is suitable for dieters for its richness in antioxidants, and its containing avocado, which contains fats that are beneficial for heart and brain health.
Here's how to prepare and ingredients.
Ingredients :
A chicken breast weighs approximately 300 grams.
100 grams of fresh tomatoes cut into small cubes.
50 grams of quinoa.
A tablespoon of rosemary herbs.
Pinch of salt and black pepper powder, to taste.
A fresh avocado.
200 grams of fresh broccoli florets.
100 grams of boiled pumpkin, cut into medium-sized cubes.
tablespoon of butter.
How to prepare:
In a non-stick skillet, heat the butter, and cook the chicken.
Steam the broccoli, pumpkin and tomatoes, for about 5 minutes.
Soak the quinoa for an hour in water, until tender before use.
In a serving dish, put the fried chicken, and cut it into circles of medium thickness.
We put quinoa and tomatoes on both sides of the plate in a distinctive creative way.
Add the vegetables, decorate the plate with rosemary herbs and sprinkle with salt and pepper.. Serve