Haircare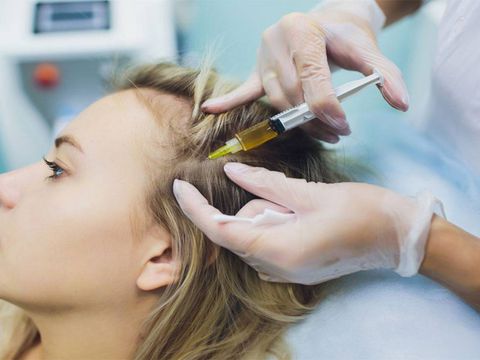 The benefits and harms of plasma needles for hair
Plasma needles for hair are one of the treatments that you resort to to solve hair problems, and care beauty will introduce you to the benefits and harms of these needles to make it one of the methods for hair care.
You may sometimes rely on effective natural mixtures for hair , but you need with them for some time to feel the results, hence the importance of resorting to plasma needles. But these needles have benefits and harms that you need to know about.
What are plasma injections?
Plasma helps stimulate blood circulation in the body, as it transports nutrients to various cells of the body, including hair and skin. Therefore, injecting plasma into the scalp will help stimulate the production of collagen and protein in it to make the scalp healthy and strong and thus contribute to hair growth again and make your hair thicker, healthier and shinier.
Benefits of plasma needles for hair:
These injections help in particular to reduce the problem of hair loss 

It stimulates the work of the follicles to help strengthen them and make your hair more beautiful.

Helps you treat scalp problems, especially getting rid of the problem of dandruff and itching.
Plasma needles damage to hair:
Plasma needles can cause you to feel itchy at the injection site.

It can cause slight redness of the scalp.

It can cause bruises on the skin, but it is superficial and quickly disappears.
Tips after plasma injection:
Make sure not to wash your hair before 24 hours have passed since the injection.

Avoid applying keratin for hair

or dye for at least two weeks.

Avoid exposing your scalp to the sun a week before the injection.

Drink plenty of water to stimulate the regeneration of scalp cells.

Eat foods that contain vitamins and minerals necessary for healthy hair.
So, these are the benefits and harms of plasma needles for hair,