Beauty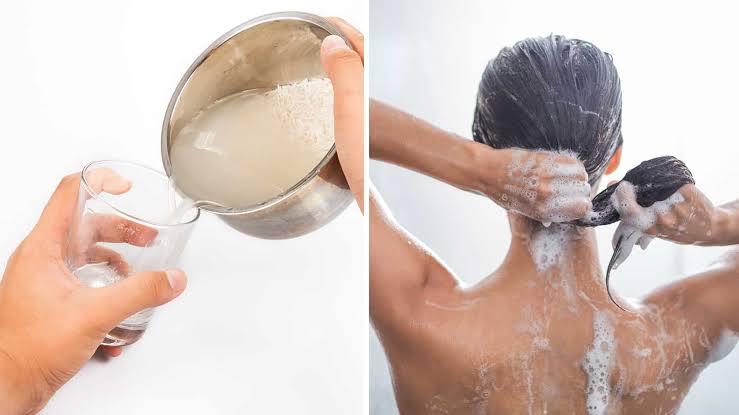 Rice water benefits for skin and hair
You can take advantage of the benefits of rice water for skin and hair care as well. Natural is a storehouse of natural ingredients that help us stay healthy, including the cosmetic benefits of rice water. Rice water provides you with many wonderful health and beauty benefits. Rice water is known to help lighten and smooth the skin, tighten pores, prevent pigmentation, eliminate age spots, and renew cells. At the same time, it is useful for hair because it contains proteins that repair hair as well as make it smoother and more lustrous.
In fact, rice water turns slightly acidic when it is soaked in rice. This water contains a high percentage of starch, which makes it rich in antioxidants, vitamin E and essential minerals needed for beautiful skin and hair.
Rice water benefits
 What is rice water?
Rice water in its simplest form is the water left over from the rice after being washed before it is ready to eat. Its concentration can increase when the rice has fermented more and come out with more benefits. . Rice water contains beneficial nutrients that protect hair and rejuvenate the skin. It is usually used as a hair rinse. And the work of natural masks to take care of the beauty of your skin and thus, it becomes an easy and natural way to take care of skin and hair.
 Benefits of rice water for the skin:
Rice water is often used as a lotion for the skin and hair, and when using rice water lotion, it improves your skin and makes it smooth and smooth. Where it becomes a wonderful toner that tightens the skin and you can also use it to treat various problems such as acne and bright skin.
 Eczema treatment:
One of the benefits of rice water is that it helps treat eczema. Because the starchy components in rice water are a necessary component to treat this problem. Once the rice water is dried, the water is left in the refrigerator to cool down.. Then take a piece of a clean towel and dip it in the water and pat it dry all over the affected skin. It is preferable to do this several times for a few minutes and make sure to be in dry air.
Natural skin coolant:
You can use rice water as a natural skin coolant that reduces inflammation and skin burns. Because it helps increase the speed of recovery and prevent further damage. In this case, cold rice water is best to treat these problems effectively.
Reducing pore size:
Wide and open pores are a common problem for many individuals. Which is often caused by acne and blackheads. Large pores are found in abundance in people with oily skin because it has an effective effect.
Because rice water tightens the face well. When you dip a piece of cotton in rice water and start applying it on the face in equal quantities and leave the rice water on the face for 10-15 minutes. To get the best results, you can follow these steps at night on a clean face.
 Get smooth skin:
Rice water helps you keep the skin soft, glowing and moist because it contains protein that prevents the skin from losing water. You can wash the face with rice water or apply it through the use of a cotton swab.
How to use rice water for skin:
the bathroom :
You should be aware that having a cold or warm rice water bath. Prepare a knot of gauze and fill it with rice water, adding two lavender flowers to it. Putting the bag in the water and letting it sit for 30 minutes. Then work to soak the body in this water and enjoy a wonderful bath.
If you do not have lavender flowers at home, you can use orange or lemon peels and neem leaves are an ideal option for this. Here are the benefits of a rice water bath:
Face wash:
Rice water is often used as a face wash because it is easy to prepare and does not require much time. Or simply mix rice water with lavender oil and use it as a lotion every time you wash your face.
Facial cleanser:
Rice water is an excellent facial cleanser and an inexpensive natural way to pamper your skin. . You can massage your skin with rice water directly with the help of a cotton ball and massage for a few minutes, applying regularly until you get smooth and radiant skin automatically. And other benefits when applied to the face lift are reducing the size of the pores and unifying the color of your skin.
Rice water benefits for hair:
You can use rice water to treat the most common hair problems, and when used as a daily hair wash, it adds a natural glow and shine. Because it helps you prevent hair follicle damage and keep it strong for a long time and thick.
Hair conditioner :
Rice water works as a great conditioner for hair by adding a few drops of lavender and rosemary oil to rice water and applying the mixture well to the hair follicles. Leave the ingredients on the hair for 15 minutes, then wash it with cold water.
Curly hair treatment:
When it comes to curly hair, rice water is the great choice for you that you can turn to to benefit from it. Because rice water contains a large amount of protein, it acts as a great conditioner for hair, softening frizzy hair.
In a study published in 2012 for the International Cosmetic Science Journal, the daily use of rice water on the hair helps you straighten hair and get rid of frizz completely.
Wash the hair with shampoo, then rinse the hair with cold water and put 1 cup of rice water in the bathtub water and use this water in the final rinse of the hair. It is preferable to repeat this process once or twice a week to get the best results.
 Get soft and strong hair:
Rice water enables you to get soft and strong hair because the hair is mainly based on protein, which you can get through rice water because it is rich in protein that strengthens the hair and prevents the breakage of the follicles. In addition, rice water contains a substance that prevents hair damage and helps repair it. To get good results, you can wash the hair with shampoo as usual, then rinse the hair with rice water and massage the scalp for 10 minutes, then wash the hair. To get good results, this process can be repeated 3-4 times a week.
How to prepare rice water?
You can use brown rice, white rice, short rice.
Method 1: Cooking rice in water:
To increase the concentration of rice water and use it in a diluted form throughout the week as a face and hair wash. You can prepare the rice in the usual way, but increase the amount of water 2-3 times the usual amount. After the rice is cooked, the water is filtered, which becomes white in color and has an increased concentration of nutrients. When using, you can dilute a few tablespoons of concentrated rice water in a glass of water.
Use this diluted solution to wash your face or hair and store the remaining concentrated water in the refrigerator in a covered container for up to a week.
Unboiled rice water:
If you want to get rice water easily. You can just take two cups of rice water and put half a cup of rice in it for up to 15 minutes. Filter the rice water and use this water to wash the face and hair