Haircare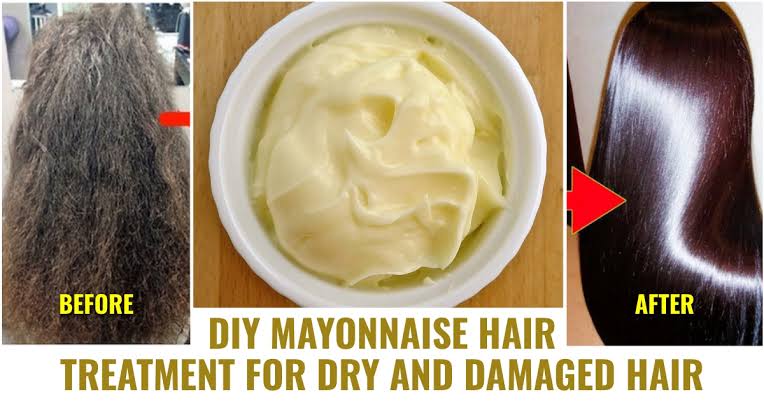 Realize the dream of length and softness with a set of mayonnaise mixtures for hair
In the modern era, hair care products have become very expensive. But when using mayonnaise mixtures for hair, it is inexpensive, natural and very safe to use. In addition to the amazing benefits of mayonnaise for hair. Where it works to strengthen the hair, nourish it and increase the density of hair. There is no doubt that most salon hair care treatments do more harm than good. Therefore, hair treatment with mayonnaise comes as an easy solution to take care of your hair. And we all need to take care and care of hair, because it contains proteins and oils necessary for healthy hair.
And we usually add mayonnaise to sandwiches and various dishes to get a delicious taste. But have you ever thought about applying mayonnaise to your hair? Do not be surprised by the question. Your hair also needs mayonnaise in order to get healthy, shiny and flawless hair, and it is definitely a healthy hair treatment.
We offer you a set of mayonnaise mixtures for hair. How to use mayonnaise for hair: for hair. Take a full cup of mayonnaise and start applying it to the scalp. Massage the hair well from the outside to the roots. Leave the mayonnaise for 20 minutes and wash the hair well after that. Use a moisturizing shampoo to clean Hair well without drying it too much. It is preferable to repeat these steps monthly.
This mixture can be very suitable for dry hair.
Mayonnaise for dry hair:
Each strand of hair must be closed. After the hair is completely finished, put on a shower cap. Cover the hat with a warm towel. Leave it for 20 minutes on the hair and wash the hair well after that.
You can add some other natural ingredients such as olive oil, eggs, avocado and almonds to add more nutritional value, and you can add a little vinegar if you suffer from lice.
Mayonnaise conditioner for coarse hair:
The main reason behind the amazing benefits of mayonnaise for hair and being a good hair conditioner is that it contains eggs, vinegar and oil and all these three ingredients help the hair to restore its moisture in addition to helping to strengthen the hair and treat its roughness.
Here are the simple steps for making balm mayonnaise:
the ingredients :
1 cup of mayonnaise 1 tablespoon of jojoba oil / olive oil 1 tablespoon of organic onion 4-5 drops of tea oil.
Ingredients Benefits:
Mayonnaise: Mayonnaise nourishes the hair and cleanses the scalp deeply, leaving the hair shiny and soft.
Olive oil / jojoba oil: It contains a large group of vitamin E, which works to clean the hair and provide the hair with sufficient moisture for the hair and scalp.
Honey: It is an antibacterial and a natural disinfectant. Honey helps treat sensitive scalp problems and moisturizes the scalp.
Tea tree oil: It acts as a balm and soothes and acts as a scalp cooler.
How to prepare :
Put all the ingredients together in a bowl, and mix well until it forms a smooth paste. Mayonnaise acts as a moisturizer for hair.
How to apply on hair: You can apply this mixture to your hair immediately after rinsing your hair with warm water. Warm water is preferred because it opens the pores of the scalp, making it easier for the mixture to reach the scalp.
Divide the hair into small parts and apply the mixture to each part of the hair.
Cover each portion generously with the mixture. Cover the entire scalp with a plastic cap for 30 minutes until the ingredients penetrate the scalp. Then wash the hair with shampoo to get rid of any smell.
Tips when applying mayonnaise mixtures to hair:
You should always use full fat mayonnaise.
Dilute your shampoo before washing your hair. This is because mayonnaise is greasy and needs more time to clean up.
Some people complain that mayonnaise mixes make hair smell like salad, if you feel like it. You can add a teaspoon of vanilla to mayonnaise before applying it to your hair.