Haircare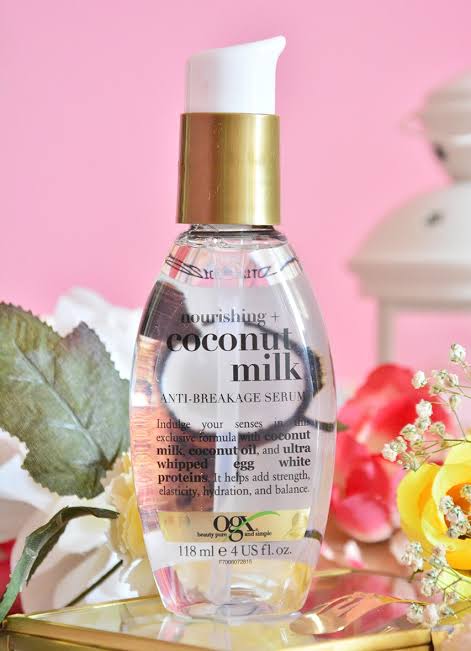 OGX Coconut Anti-Breakage Serum
Today we talk about the coconut serum product from OGX, and we show you its experience and opinions of those who tried the product and its price, as well as whether it actually prevents hair loss or not. Hair serum has now become one of the most important basics that every woman should have, because it prevents hair from flaking and frizziness, and it also gives hair moisture and shine, and there are many types of hair serums in the market, and one of the best types that you will find is coconut milk serum due to this Because of the great benefits of coconut milk on hair. In this article, we will explain to you all about OGX Coconut Hair Serum.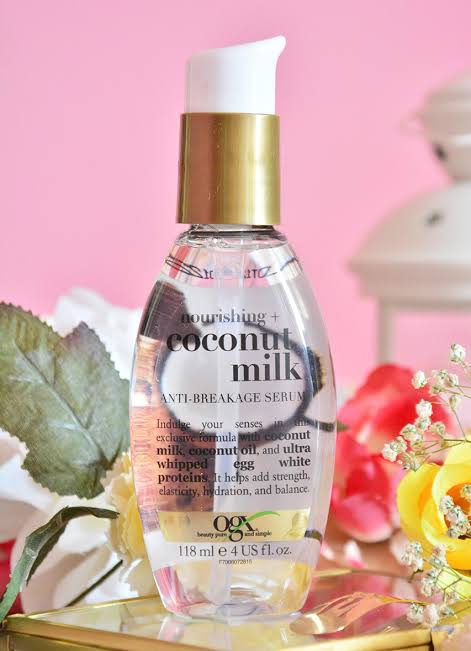 Benefits of coconut milk for hair from OGX
Coconut milk helps stimulate hair growth as it contains natural ingredients such as potassium, iron and fatty acids.
Coconut milk helps moisturize the hair from the roots to the tips, as it contains natural ingredients such as fats and vitamin E.
Coconut milk helps to clean the hair of dirt and dust stuck to it.
Helps moisturize the skin of the scalp, helps to remove dead and damaged skin cells, and prevents infection and treats dandruff of the scalp.
Coconut milk helps to nourish hair and provide it with nutrients and vitamins necessary for its growth.
It prevents split ends and hair frizz, leaving it healthier and more vibrant.
OGX Coconut Serum
Coconut milk hair serum works to nourish the hair and extend it with the nutrients needed to prevent hair loss and prevent split ends. It contains a mixture of coconut milk, coconut oil and egg white proteins. This unique formula works to strengthen and moisturize the hair and increase its flexibility, as it helps restore health. And vitality to dull, unhealthy hair, as it works to form a protective layer around each strand of hair, making the hair easier in daily styling without any tangles or problems.
Ingredients of OGX Coconut Serum
Dimethicone, Cyclotetrasiloxane, Cyclopentasiloxane, Dimethiconol, Alkyl Benzoate, Coconut Oil, Hydrolyzed Milk Protein, Albumin, Amino Acids, Shea Butter, Water, Perfume.
How to use OGX Coconut Serum
Apply a small amount of Coconut Cream Serum to the palms of your hands, rub your hands together, and apply the serum evenly to wet hair (after towel drying) to the ends of the hair.
warning :
You should avoid that the coconut milk serum touches your eyes, and in case of contact with the eyes, you should rinse your eyes with water immediately.
It should be kept out of the reach of children.
It should be stored at a temperature above 13 ° C, if frozen, it must be warmed up to 16 ° C, and you should know that freezing does not harm the efficiency and effectiveness of this product.
Advantages of using OGX Coconut Serum
easy to use .
It does not cause hair to dry out.
It is easily absorbed by the hair and scalp.
Suitable for all hair types.
It does not cause the annoying greasy appearance of the hair that appears after applying oil to the hair.
Nourishes hair with vitamins and minerals necessary for it.
Contains shea butter that helps moisturize and deeply nourish hair.
It prevents hair loss.
It prevents split ends and hair volatility and makes it healthier and more vibrant.
It can be used to create a protective layer for hair before using a hair dryer and flat iron.
It can be used on both dry and wet hair.
It is used safely on dyed hair, as it does not affect the color.
Country Product SERUM coconut OGX
Coconut Milk Hair Serum is produced in the USA.
OGX Coconut Serum Price
Available in a 188ml bottle, priced at $9.18.
Who views using sera from coconut OGX
Amazing product, I use it daily to keep my hair from frizzing.
Wonderful, it leaves my hair shiny, clean and attractive.
I highly recommend it, as it does not leave an annoying greasy layer on the hair.
Excellent for dry hair.
Leaves my hair soft and wonderful, and the smell is attractive.
I have been using it for 2 years, it is excellent and it leaves my hair shinier and looks healthier and more vibrant.
I highly recommend it, my sisters and I have been using it for several years and we can never do without it.