SKINCARE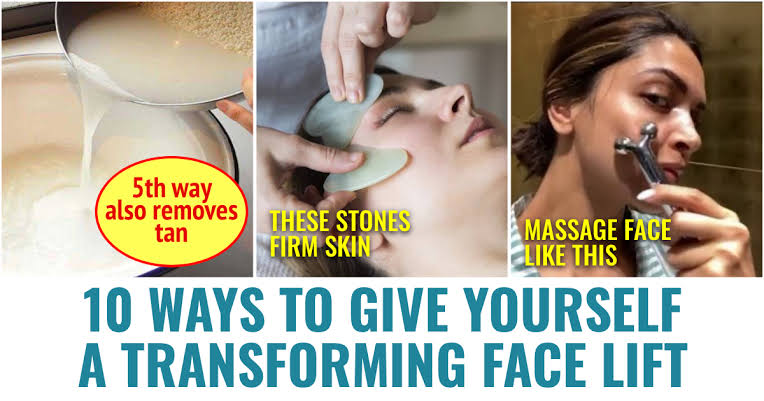 Natural face-lift mixtures.. results from the first use
Mixtures to tighten the face naturally, its freshness from the first use in minutes, removing sagging and wrinkles, with herbs as if they are natural collagen, see the recipes that we will explain to you next, in order to get a tight and beautiful face and get rid of the signs of aging and signs of aging.
Natural herbal face-tightening mixture
So that you get a naturally tight skin, and in order to get rid of the signs of aging and sagging skin. There are several herbs that will help you achieve your goal, and therefore you will not need to undergo surgical procedures, including:
Rosemary for fresh and tight skin:
Boil 2 cups of water in a pot, then add three tablespoons of apple cider vinegar, then add an appropriate amount of rosemary.
Leave the mixture until its temperature cools and then drain well.
Filtered water is used as an astringent for facial pores and a natural face lift.
Lavender for a natural face lift:
Mix 10 drops of lavender oil with a very small amount of coconut oil or aloe vera.
This mixture is not only a recipe for a natural face lift, but also gets rid of spots and pigmentation.
Basil for a natural face lift:
One of the natural face-lifting mixtures with herbs, put fresh basil leaves in warm water, they will become thin and can be easily ground into a paste.
Add a teaspoon of honey and then a tablespoon of chickpea flour.
Leave the mixture on the skin for a while, then wash it with cold water.
A mixture of tightening the face and natural whitening
Yogurt and lemon to get rid of sagging skin and wrinkles:
Make a mask from a cup of yogurt and a few drops of lemon juice.
To tighten the face naturally, massage your face with the mask in circular motions.
Wash your skin with cold water after 10-15 minutes.
Bananas to get rid of wrinkles and tighten the face:
A natural recipe for a face-lift consists of mashed bananas, then add lemon juice.
For 10-15 minutes, massage the mixture into your skin.
Wash your face with lukewarm water and then pat dry.
Egg whites for skin tightening and whitening:
Massage your skin after washing it with 2 egg whites in a circular motion.
After a third of an hour, wash your face with cold water.
Tomatoes to tighten wrinkles and clean pores:
Spread tomato juice on your face using your hand or a cotton swab.
After 20 minutes, wash your face with plain water.
Use the mask twice a day, morning and evening, to get noticeable results.