Beauty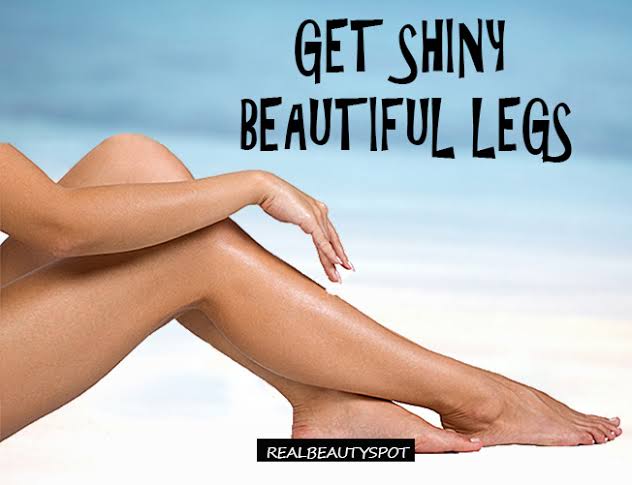 Leg beauty tips
You may think that to get beautiful legs you need to do strength exercises and a lot of things that require you to make huge expenses and money, but you do not get the desired results. In this article, we help you by explaining how to get beautiful and attractive legs with a set of simple steps that attract a man easily. Beautiful legs enhance your personality, not all women have the luck to have harmonious legs, some need to be aware of how to get beautiful legs.
And that attention to the face and hands is not enough for more femininity and attractiveness. We often forget that the legs carry us all day, so they need additional care, especially these days. It is necessary to maintain beautiful legs. Let us focus today on how to get beautiful legs.
Leg beauty tips: 
Legs are no less important than the rest of the body parts need to get their own care In addition to doing the pedicure that you do every month, it is recommended to give the legs daily care in order to look beautiful and charming.
When women have beautiful legs, they enjoy wearing attractive underwear, dresses, shorts and short skirts at home without worrying about the appearance of the legs.
 1. Determining the shape of the legs:
If you have full legs and suffer from overweight, you need to lose excess fat in this area so that it does not result in heavy legs. It is recommended to exercise, specifically exercises that are concerned with the agility of the legs, to determine the shape of the legs and obtain toned skin, thus making the legs in the ideal shape. We recommend performing a set of exercises that target beautiful legs such as squatting, running, cycling, jumping rope, lifting weights, but it is not recommended to lift weights unless after consulting a coach to determine the weights you need.
2. Get slim legs:
If you are embarrassed that your legs are overweight, you should be careful about the foods you eat. And by avoiding foods that contain a high percentage of sugar, fat, calories because they lead to storing excess fat and ruining the shape of the body, including the legs. Try to reduce the amount of fatty foods to not harm the body.
3. Get soft legs:
Excessive hair on the legs is one of the nightmares that women face. You should choose an effective way to get rid of excess hair on the legs. Some women may choose to resort to laser hair removal. If the budget does not allow this cost, alternative methods such as waxing, shaving for hair removal can be considered. But shaving leads to cuts and the skin becomes drier. And using a good quality shaving gel. In the case of shaving the legs, care must be taken to moisturize the legs after shaving to avoid burning the skin.
4. Legs Massage:
You can think of using herbal oil on the legs at least once a week in order to get beautiful and attractive legs and glowing skin. As much as possible, you can wash the legs with herbal soap or a mild soap in the evening and before bedtime, the moisturizing cream is applied to the skin in the morning. You can get more beautiful legs.
5. Foot bath:
You can also try a foot bath for the legs once a month. By taking a bucket of lukewarm water and mixing a little shampoo, add three drops of essential oil and mix them well. Put the feet in lukewarm water and leave it for half an hour. After that, you can gently clean the feet with a pumice stone and moisturize the legs immediately.
6. Pedicure for the legs:
Instead of spending more money and time on a pedicure in different salons, you can do a pedicure at home. Once you have purchased the right pedicure tools and read the user manual to start using them correctly. You can learn to do a pedicure at home, they are easy steps instead of doing it in beauty salons.
7. Moisturizing the legs:
Moisturizers help keep the legs soft and the skin perfectly smooth and dandruff free. You can consider using a moisturizing cream that has skin tightening properties. And start applying it whenever you get the chance, especially after every shower, to get perfect and aesthetic legs. It also helps you maintain a natural tan of the skin.
8. Solve skin problems:
If you are facing problems with the skin of the legs such as acne, pimples, veins, you should consult a doctor immediately, especially a dermatologist, to provide you with the appropriate case for your problem.
 9. Black Knees and Thick Dead Cells
If you have dark knees, try to lighten these colors because many women have a lot of dead skin buildup around the ankle area. You can resort to home remedies that help reduce dark skin. It is preferable to use lemon with a little honey for this purpose.
10. Toning the legs:
And that by doing some simple things such as yoga, squatting, walking or jumping. You can seek help from a trainer to improve your leg exercises in order to tighten the muscles under your stretch marks.
11. Tanning / Tanning:
Lots of people tan easily, so always use a good sunscreen for your legs to avoid artificial tanning. However, you should be careful about the right product and know to do it right.
12. Eliminate Legs Stretch Marks:
One of the biggest problems that you can face is the stretch marks and white lines that appear in the legs. There are many natural home remedies that you can resort to to treat the problem of stretch marks on the legs. Like using aloe vera. Aloe vera is one of the most effective natural remedies. It is good at treating skin repairs and helps in collagen production. It is preferable to use fresh aloe vera gel taken directly from the leaves instead of buying the stored gel.
Preparing the aloe vera plant by removing the outer skin and removing the sticky gel from the inside. Apply this gel on the stretch marks, leave it for two hours, and then wash it off with lukewarm water.
13. Peeling:
Always try to use an exfoliating mixture of dead skin cells that form on the surface of the skin. The permanent priority is to wash before shaving to remove excess hair. These steps can be performed at least three times a week.
14. Legs Makeup:
Today, many types of legs makeup are available for different products. In order to be able to cover the bruises and wounds suffered by the legs, but you should not use the makeup of the legs on a daily basis, you can only use it on occasions.
 Useful tips to maintain the beauty of the legs:
 Try to avoid standing for a long time at work or at home. Because that leads to the expansion of the veins.

Do not leave the legs exposed to the sun for a long time so as not to burn the skin more than necessary, and the sunscreen should be used at least 30 degrees.

Not to do a lot of tanning for the skin because it harms the skin of the legs.

 Consult a dermatologist if you have problems such as leg blisters, spots and visible veins.

 The frequent wearing of high heels, leads to the emergence of the muscles of the legs more clearly

A little tan for the skin of the legs makes it look better than the white or pale legs