Taking care of oily hair on a daily basis is not always an easy task, we must use the right products and take care so that our hair looks healthy and clean. It is one of the best alternatives to improve your appearance and control sebum. These masks are made with natural ingredients that will help you keep your hair in the best condition possible. Are you signing up to make it at home? Well, at Types.com we explain how to make home masks for oily hair with different ingredients.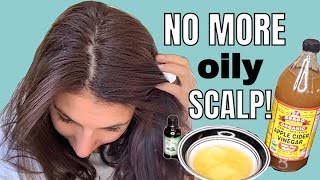 Yogurt and egg mask for oily hair
Yogurt is one of the best natural ingredients for skin and hair care, and with it you can make a cold greasy hair mask . Mix unsweetened natural yogurt with a raw egg (yolk and white) to form a paste.
Apply to dry hair, preferably clean, and leave for 15 minutes. Wear a shower cap to increase the effectiveness of the mask. Then rinse with warm water and wash your hair regularly. You can apply this remedy once a week and you will see how your sebum production is controlled.
Read also: https://carebeautyco.com/fight-excess-oil-on-the-skin-with-rice-water-lotion/
Egg and lemon mask for oily hair
Lemon is a commonly used ingredient to control fat and mixed with eggs is a great combination. For this mask you will need:
1 raw egg
2 lemons
1 tablespoon honey
1 sachet of unflavored gelatin
Mix the gelatin bag with warm water and a spoonful of honey until completely dissolved. Add lemon juice and eggs, apply it to the hair after washing it as a conditioner for 5 minutes and then rinse it with cold water. Use it twice a week and enjoy less greasy hair.
Yogurt, rosemary and sage mask for oily hair
The power of yogurt and herbs come together in this great mask for oily hair. To prepare it, you will need:
1/2 cup unsweetened natural yogurt
2 cups of water
A tablespoon of chamomile leaves, rosemary and sage
Bring water to a boil and add tablespoons of chamomile, rosemary and sage, letting the herbs simmer for 5 minutes. Let the liquid settle, and once it cools, add the yogurt and mix.
Apply the mask for 20 minutes, slightly massaging the scalp. Remove with cold water. You can apply it two to three times a week.
White Clay Greasy Hair Mask
Clay is an excellent ally in controlling oily skin and hair. Using it we can make a very simple natural mask that takes care of our oily hair .
Mix three tablespoons of white clay with a little hot water to form a paste. Leave it for a few minutes and then apply it to the roots for 20 minutes, then wash your hair normally.