Dry Skin From Fungus With Garlic Oil  
5 September, 2022
0 Comments
---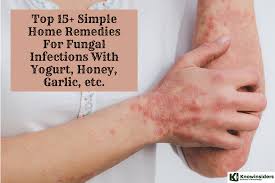 ---
Dry Skin From Fungus With Garlic Oil
Materials:
1 Teaspoon of Garlic Oil
2 Tablespoons of Coconut Oil
1 Capsule Vitamin E
Preparation and application:
Combine the ingredients in a small bowl and mix well.
Apply the mixture to your affected areas.
NOTE:
Natural products create miraculous effects. In fact, all our treatments are found in nature itself. The important thing is to make the best blend with the right products and to benefit. With this cure we have prepared, your complaint about the fungus problem will decrease.
Do the application 2-3 times a day regularly.
If there is any leftover material, you can store it in a closed container.
After applying the mixture to the skin, there is no need to wash it.
Garlic is an excellent antibacterial product. Thus, it performs a great function in repairing the problematic areas with bacteria on the skin. Other materials in its mixture also provide support and allow the problem area to heal quickly.
Since vitamin E is a capsule, do not forget to pierce it with a needle and take the liquid inside.