Natural benefits of skin exfoliation
26 September, 2023
0 Comments
---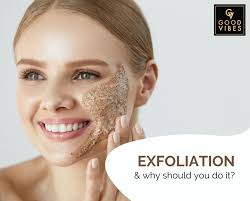 ---
1- Clean and smooth skin:
The skin is constantly producing new cells, so old skin cells that are present in a transparent layer on the surface of the skin must be eliminated because they lead to the appearance of pimples if they are not removed. It is known that the skin is exposed to pollution, dust, and dirt that form this transparent layer and thus block the skin from breathing, so We recommend exfoliating the skin to maintain its cleanliness.
2- Enhancing the effect of skin creams:
What is the benefit of using moisturizing or nourishing creams when there is a transparent layer that clogs the pores of the skin? Therefore, we advise Eve to be careful to remove dead skin cells so that new skin cells appear and thus the skin can benefit from moisturizing or nourishing creams, as the skin after exfoliation can absorb the cream better.
3- The freshness of children's skin:
Exfoliating the skin once a week on a regular basis adds shine, vitality, and luster to the skin. Eve enjoys healthy, clean, and soft skin like a child's skin, due to cell renewal and getting rid of old cells. However, Eve should be careful to exfoliate her skin only once a week so that her skin is not exposed to infections, and to benefit from it. With new cells for as long as possible.
4- Remove any marks on the skin:
The skin is exposed to some scars or pimples that leave marks on the skin. Cosmetic experts have confirmed that acne marks, blackheads, pimples, and skin scars can be removed by exfoliation, but only in the long term.
5- It rids the skin of signs of fatigue and stress:
Exfoliating the skin and getting rid of the dry layer on its surface. Eve feels that her skin radiates comfort and relaxation. Thus, Eve gets rid of signs of fatigue, exhaustion, and stress. However, we advise Eve to use natural skin exfoliation products, as they have proven their effectiveness. We also advise Eve to stay away from the eyes, especially the eyelid area, as it is an area Thin and does not tolerate peeling