SKINCARE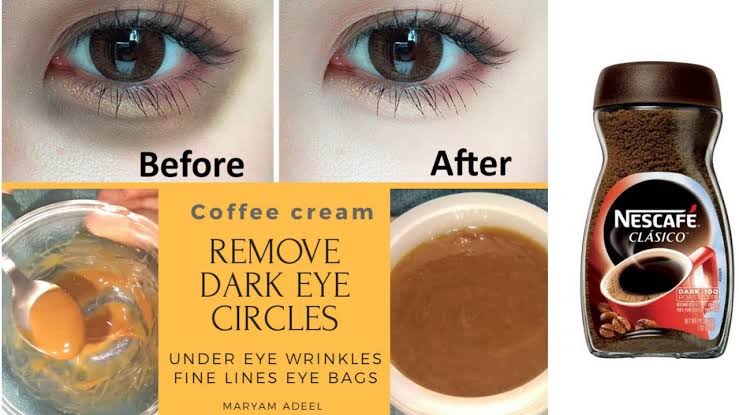 Making a coffee cream to treat dark circles
Why is coffee good for your skin? And why can coffee cream be used to treat dark circles? Coffee contains large amounts of antioxidants, including hydrocinnamic acids and polyphenols.
 These substances are highly effective in eliminating free radicals and preventing oxidative stress. The body can obtain these benefits when consuming coffee or when used topically on the skin.
 Caffeine also helps reduce dark circles and puffiness in the under-eye area and helps increase blood circulation. This gives the skin a younger and more refreshed appearance. You can use coffee to get a wonderful and useful cream to get rid of dark circles under the eyes.
Ingredients of coffee cream to treat dark circles



2 tablespoons of coffee oil.

2 tablespoons of virgin coconut oil.

2 teaspoons of pure jojoba oil.

1 tablespoon of organic beeswax.

A teaspoon of patchouli essential oil.
Effect and benefits of coffee cream ingredients



1- Coffee oil Coffee oil, like coffee, is full of antioxidants and caffeine, and these compounds work together to enhance the skin's ability to heal and renew cells. It also helps improve blood circulation under the eyes and help get rid of dark circles.
How to make coffee oil Mix 4 tablespoons of ground coffee with 8 tablespoons of pure olive oil in a small saucepan. Heat the mixture over low heat for 30 minutes, stirring occasionally. Filter the oil with a cheesecloth or coffee filter until you get the perfect coffee oil.
2- Coconut oil Coconut oil provides many benefits to the skin, including the skin around the eyes, and coconut oil is used to prevent dryness and fine lines. Coconut oil contains vitamins and essential fatty acids that help promote the growth of new skin cells. The oil's content of lactic acid and vitamin E helps narrow the pores, making the skin smooth and tight, while the oil's anti-inflammatory properties help reduce swelling and redness.
3- Beeswax Beeswax, known for its moisturizing properties, has many other benefits for the skin, including its soothing properties. Beeswax creates a barrier that helps retain moisture in the skin. It also contains vitamin A, which encourages cell renewal and helps increase skin hydration.
4- Jojoba Oil Jojoba oil contains many nutrients such as vitamin E, B complex, zinc, copper, chromium and selenium, and these substances help to rejuvenate skin cells and make them more supple, as they work to get rid of fine lines .
5- Patchouli Oil Thanks to its anti-inflammatory and antioxidant properties, patchouli oil reduces the appearance of wrinkles and fine lines on the skin.
How to prepare coffee cream to treat dark circles



Put the coffee oil in a heatproof bowl, and add the coconut oil and beeswax to it.
Place the mixture in a pan with 50ml of water until the coconut oil dissolves.
Once the coconut oil has melted, remove the pan from the heat and add 4-5 drops of patchouli oil. Patchouli oil is ideal in this recipe because it works to rejuvenate skin cells, and it is great for all skin types, but if you do not prefer it, you can replace it with lavender essential oil.
Pour the mixture into a wide-mouthed glass bowl.
Leave the mixture to cool down and solidify, some coffee grounds may appear in the cream.
Put a little of it around your eyes and massage it gently before going to sleep or in the morning before applying eye makeup.