If you suffer from weak, damaged hair, and want to make it more dense and vibrant, here are quick natural recipes that help you nourish your hair. These recipes include natural products available at your home that you can prepare and apply to your hair with ease, without going to the beauty center and spending a lot of money, to enjoy Gorgeous, elegant hair.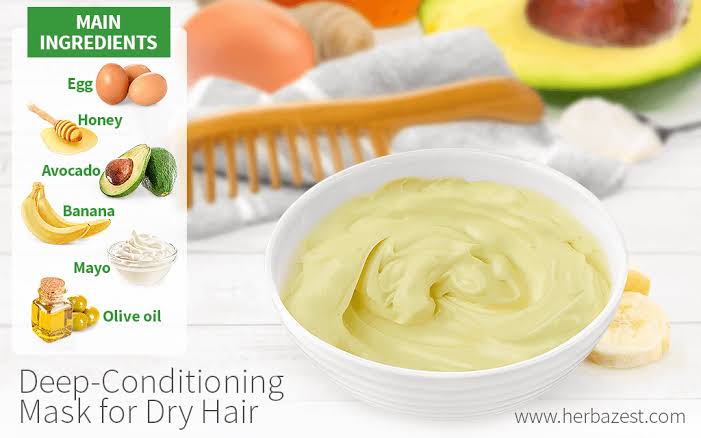 Honey mask: Honey
is a natural product that contains many benefits for hair, as it nourishes it well from its roots to its ends, and is very useful for all types of hair, whether dry or oily.
Ingredients:
12 cups of bee honey and four tablespoons of olive oil, according to your hair type. If it is greasy, apply a smaller amount.
Preparation:
In a small bowl, mix honey and olive oil until combined, then pour the mixture through a funnel into a plastic bottle several times until it is ready.
Mix the ingredients well, then massage your hair with it, cover your head with a shower cap, and leave the mask for at least 30 minutes, then wash your hair well with shampoo.
 Avocado mask:
Avocado is one of the natural fruits rich in good fats, which will make the hair more shiny and elegant. Therefore, many women prefer it to nourish their hair.
Ingredients:
one avocado, two tablespoons of olive oil, two tablespoons of water, and two tablespoons of heavy butter.
Method of preparation:
Mix all the ingredients well, put it on your scalp first, then the ends of your hair, wear a shower cap, and leave the mixture on your hair for 20 minutes until it penetrates the hair follicles, nourishing, strengthening, and promoting its growth, then rinse your hair with lukewarm water and then wash it with shampoo.
 Banana mask:
One of the wonderful masks that provide your hair with nourishment and softness, and bananas are a delicious fruit with great benefits because it is quick and easy to prepare. Put a banana, two drops of rose water, and a spoonful of honey, and leave the mixture on your hair for 30 minutes, then rinse it well and you will be amazed at the result.